Cultural Advice
---
Accommodation:
Kyiv
Podislky hostel,
Naberezhno-Luhova street 7
podolskihostel.com
Sieverodonetsk
Tsentralny hotel
Hvardiiyskiy avenue 13
You can either reach the Central Railway Station in Kyiv by yourself and we will pick you up from there or you can take a taxi to the hostel directly. If you wish to be picked up at the Railway Station, please contact us in advance.
Taxi Forum: (+38) 063 229 0202, 250 UAH (paid by cash), they can pick you up in the airport with a sign.
Uber
Train to the Central Railway Station: costs 80 UAH, you can get a ticket at the machine using a credit card as soon as you exit into the waiting hall, turn right: they look like the photo below. For the train itself turn right once you exit the airport terminal. There is no need to validate your ticket, it will be checked on the train. kbp.aero/en/kiev-boryspol-express
Bus to the Central Railway Station: you will see a bus standing on the right, it is called SkyBus and it will take you the Pivdennyy Vokzal (Southern Station, which is just a name for another entrance to the Central Railway station, so don't let the name confuse you). It costs 100 UAH and you can only pay by cash on the bus. The bus will have one stop between the airport and Pivdennyy Vokzal, Kharkivska metro station, but please don't get off there. This bus is a cultural experience in itself, prepare for some Ukrainian pop music and maybe recordings of '95 квартал', a comedy show once ran by the newly elected president of Ukraine. kbp.aero/en/transport/bus
Public transport from Central Railway Station to the hostel: if you arrive to Pivdennyy Vokzal (if travelling by bus) you would have to cross the railway station to get to the main entrance. As soon as you exit the railway station from the main entrance turn left and keep walking until you reach Vokzalna metro station. Please keep an eye on all your belongings, as pickpocketing is common around the station. You can pay for your tickets with a) a contactless card directly at the gate entrance b) by buying a token for a single ride from a window (make sure you have exact 8 UAH change to buy it) c) by buying a green metro card (the card costs 15 UAH + number of rides x 8 UAH). The hostel is located right next to the summer school, so you would not need to use the metro often. If you have luggage (a suitcase or a big bag), you would have to buy a ticket for it too.
In the metro take a red line direction Lisova and get off the train at Khreschatyk station. Change to the blue line Maidan Nezalezhnosti station. Take the blue line direction Heroyiv Dnipra and get off at Tarasa Shevchenka station, then walk from there:

Money:
It is advised to have cash on you. You can exchange some money at the airport, though the rates should be better at the banks or exchange kiosks in town, so if you'd like you can exchange some money at the airport (we would advice to have no less than 1000 UAH on you) and some later. Please be aware that British pounds is not the currency often exchanged in Ukraine, so some banks might refuse to accept it, euros and American dollars are generally easy to exchange.
Many places in Kyiv accept card payments, but that is not always the case. In Sierverodonetsk, it is more likely that cards won't be accepted. With this in mind, it is important to keep watch over your money when in crowded places. Keep your wallet in your front pocket to avoid pickpockets. If you sit outside at a restaurant, make sure to keep your bag in front of you, under the table.
Languages:
Kyiv is a bilingual city where people use both Ukrainian and Russian, sometimes in the same conversation (one person could be speaking Ukrainian, the other replying in Russian). Because of this it is sometimes the case that people might reply in Ukrainian to something asked in Russian. If you struggle understanding, it is OK to clearly state: Извините, я говорю только по-русски, не могли бы Вы повторить это по-русски?
Many mostly young people speak English, but don't expect shop assistants, drivers and waiters to definitely speak it. There are more chances you come across an English speaker in Kyiv than in Sieverodonetsk.
People in Sieverodonetsk mostly use Russian in everyday conversations.
Weather:
We might have harsh winters, but don't pack winter clothing. Temperatures in Ukraine in June-July will be very hot (often above +30), so please dress appropriately for the weather. This is also a chance to get creative with summer hats to hide from a very strong summer sun. Also, please bring some comfortable shoes as there are going to be days when we will walk a lot.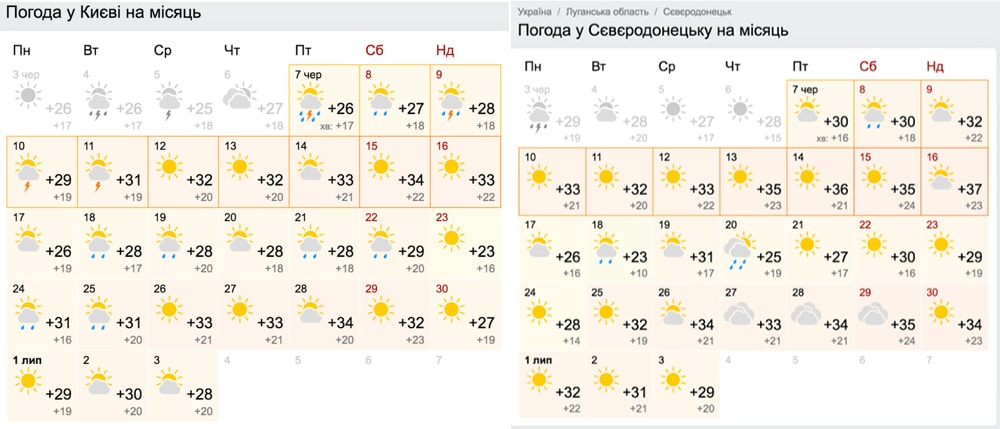 (this is the weather for June below)
Water:
Because of the weather, please drink plenty of water but be warned, don't drink water out of the tap, it can make you very ill. Water is inexpensive and readily available from supermarkets and kiosks. In seminars, water will also be provided. It is a good idea to have a water bottle on you.
Showers in hostels and hotels:
We would advise wearing flipflops when using the showers.
Adaptors:
There are two types of plugs used in Ukraine: type C and type F. Ukraine operates on a 230V supply voltage and 50Hz.
Laptops:
St Andrews might be a very safe place in terms of leaving your laptops unattended, but this is not the case in Kyiv and Sieverodonetsk. If you have to leave your computer unattended for a couple of minutes, please ask a friend to keep an eye on it.
Emergency numbers:
Organisers
Darya Tsymbalyuk: (+38) 073 126 0570
Dima Chepurnoy (+38) 095 461 0559
Fire 101
Police 102
Ambulance 103
Gas leaks 104
Customer service:
If you encounter grumpy customer service, then don't take it personally. If you have been elsewhere in Eastern Europe, you will most likely be used to this. It's just a cultural thing and it's the way people show they are serious about their work. We don't like it either.
Tips:
Unlike the UK, there is no fixed culture of leaving tips in Ukraine. If you really enjoyed your meal, though, feel free to leave one! It is a good gesture.
Finally, even though some Ukrainians may seem to be on the colder side at a first meeting, once you get to know us, we are really warm and welcoming people, who cherish friendships.
We hope you'll enjoy your time in Ukraine and make many new friends!