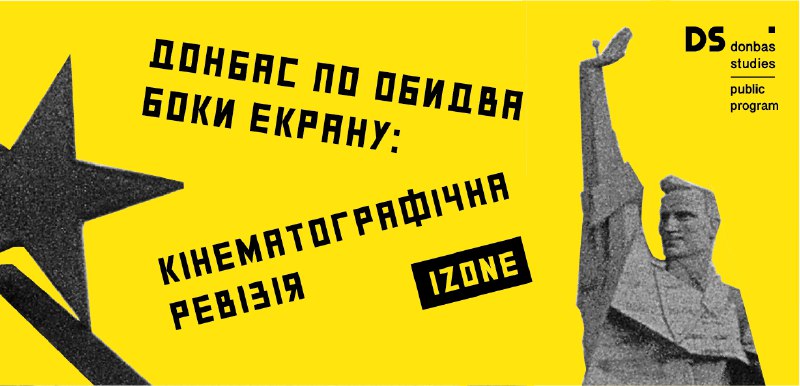 October 25, at 7:00 PM, within the framework of the Donbas Studies public program, there is a presentation of the research Cinematographic Revision of Donbas 2.0 initiated by Dovzhenko Centre. The first edition of Cinematographic Revision of Donbas was published in 2015, the second one was announced in 2017.
What methodology did the researchers use? What does the cinematography disclose about the image of the region and its transformation today? The attendees will discuss these aspects of the research and more with the chief-editor of the collection, Stanislav Menzelevskii, and authors Aleksandr Teliuk and Anna Onufrienko.
This publication researches the perspective on the region within the history of Ukrainian culture and cinematography, analyses the image of the mining labour from a historical perspective, and demonstrates the way that the Soviet rhetoric has predetermined the modern cinematic representation of the Donbas and general conceptions about the region. Through the specific structure of the research and contemporary academic methodology, the project offers a new perception of the region and follow the origins of the heroic narrative.
The publication contains a full filmography of works dedicated to the representation of the Donbas in Soviet, Post-Soviet Ukraine and in the contemporary cinematography. There's an appendix with a specific selection of film materials and historic photographs of the Donetsk and Luhansk Oblasts.
The research has been conducted by Ukrainian and international academics: Hiroaki Kuromiya, Evgenii Margolit, Olga Briukhovetskaia, Yelena Stiazhkina, Aleksei Radinskii, Sergei Yekelchik, Yekaterina Yakovlenko, Lesia Kulchinskaia, Kirill Tkachenko, as well as the Dovzhenko centre's research colleagues: Stanislav Menzelevskii, Aleksandr Teliuk, Anna Onufrienko.
---
Free entry
The attendees will be able to purchase the book
IZONE, 4th floor, Naberezhno-Luhova St., 8
---