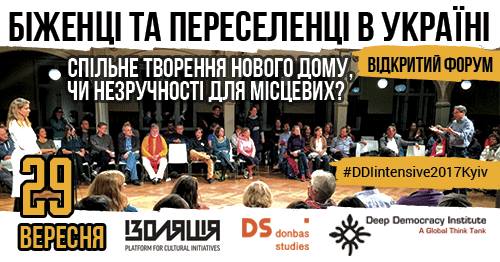 Refugees and displaced persons in Ukraine: common creation of a new home or inconveniences for the locals?
Open forum with facilitation n Kyiv.
29 September, 19:00-21:00
Deep Democracy Institute, IZOLYATSIA.Platform for Cultural Initiatives and Donbas Studies project invite you to take part in the open social forum in Kyiv which will be dedicated to the topic of refugees and internally displaced persons in Ukraine.
The open forum starts from the stories on the abovementioned topic by 3 speakers, and each of them will articulate one of the positions during his five-minute-long speech. This can give an initial understanding of different voices present in this area. The discussion will be facilitated by members of the Deep Democracy Institute who specialize in dialog facilitation in communities.
Open fora aim to create a space where various communities and opinions can coexist and interact with each other, where there is a possibility to exchange different views outside of the censorship of political correctness. Open fora allow to instantly form active groups and initiatives. Representatives of the governmental sector and other parties interested in the subject can use the forum ideas to improve policies or create new programs.
Facilitators: Julia Fillipovska, Kyiv, Svitlana Kolodiy, Donetsk, Ellen and Max Schupbach, USA.
Languages: Ukrainian, Russian, English. Interpetation is planned.
Admission is free, please, registrate via e-mail info@ddi.in.ua.
www.ddi.in.ua
www.deepdemocracyinstitute.org
Adress: 8 Naberezhno-Lugova, map: https://izolyatsia.org/en/visit-us.
We are looking forward to meeting you!